The restaurant industry's trends have radically evolved during the last few years. In addition to the epidemic, this is the outcome of global behaviour changes by humans.
The restaurant sector needs ongoing upgrades and reinvention because traditional solo outlet tactics are no longer effective. No matter if they run a fast food joint, a quick service restaurant, or a cloud kitchen, restaurateurs need to continuously coming up with fresh strategies to draw people in.
What is a Hybrid Restaurant Model?
A hybrid restaurant model combines multiple outlets, services, and dining experiences into one establishment.
A hybrid restaurant need not combine two locations that provide prepared meals. It could be a quick service restaurant and an ice cream store, a coffee shop in front of a cloud kitchen, a cafe that has been opened within a library, etc.
Hybrid Restaurant Model Current Trends
Restaurants have undergone some major creative modifications in recent years. It has become increasingly common to experiment with the location and style of restaurants as well as their setup and management.
These are some scenarios in which a hybrid restaurant model might be used:
1. Micro Cloud Kitchens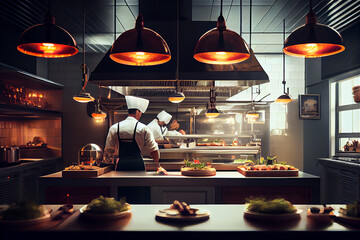 The simplest approach to start setting up a hybrid restaurant model is with Micro Cloud Kitchens. This suggestion is especially for restaurateurs who already operate a successful restaurant.
In this scenario, dine-in restaurants set up a tiny cloud cooking unit on their property that only specialises in food delivery. The services provided by this cloud kitchen and the current restaurant are fully independent of one another.
Here, it's important to note that business owners are free to try out various menu options for both sorts of outlets. This is a fantastic strategy to boost sales when the restaurant's foot traffic is down.
To find out more information on how to set up and manage a successful cloud kitchen.
2. QSR and Cloud Kitchens
The majority of the time, quick food is served to clients at QSRs. These contains foods that can be prepared in the least amount of time. While though QSRs only need to give the bare minimum of service, they do offer certain seating places so that consumers can choose to eat in, even if it is self-service.
You can enhance your profits in this case by setting up a cloud kitchen without having to worry about adding more dining or seating locations. So compared to launching a second full-fledged restaurant, you may create an entirely separate menu and manage both with much less difficulty. Also, one can concentrate on dine-in and takeout, whilst the other can only concentrate on delivery.
3. Cafe and Lifestyle Store
Cafes are the most popular form of restaurant outlets. They are small restaurants which sell light food and beverages. These days, cafes are more known for their aesthetics and having Instagram Mable interiors. Who better to use this to their advantage than lifestyle stores?
Lifestyle cafes are a relatively older concept in Western countries. Luxury retail stores such as Selfridges in London, and Macy's in New York have their own in-house cafes and restaurants for the shoppers. They serve premium quality food and a range of options to choose from. This is a good way to make customers spend more time in the store and splurge on both – products and food!
4. Art Cafe
Very interactive cafés, art cafes provide a variety of activities in which patrons can take part. They offer food and amusement, two of humans' favourite things.
The concept of creating art viewing cafes is also possible. You can transform your restaurant into a viewing gallery or cafe if you enjoy art. This will give your interiors a distinctive touch, improving the cafe's visual appeal and boosting customer traffic.
Whether you run a single outlet or a hybrid restaurant, investing in a good POS will help you run your operations smoothly and without any hassles.
Even though hybrid restaurant models are still a pilot study, they have proven to be majorly successful and cost-effective. Restaurant owners are teaming up with entrepreneurs who have the vision to do something different and offer not just good food but a wholesome experience.